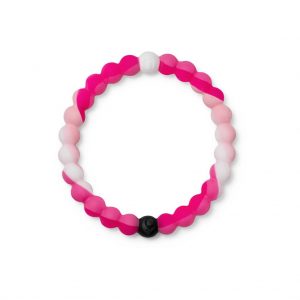 In recognition of October's designation as Breast Cancer Awareness Month, Lokai is continuing its support of the Breast Cancer Research Foundation (BCRF). Until October 31, the brand will offer a pink version of its trademark bracelet, reflecting the traditional pink ribbon worn to support the cause. The product is intended to bring Lokai's message of hope and balance (represented by beads containing water from Mt. Everest and mud from the Dead Sea) to those affected by breast cancer.
Beyond raising awareness, the pink bracelet also generates financial contributions to BCRF, with 10 per cent of its net profits being donated to the foundation. Through this product, Lokai has donated more than US$1.1 million to the organization since 2015. The beneficiary of its grant in 2016 was Dr. Heather McArthur, who is now studying a therapeutic strategy to stimulate the immune system and improve results for all types of breast cancer tumors.
In turn, BCRF has raised more than half a billion dollars for breast cancer research since 1993, according to the organization's website.
"Our goal is to accelerate the breakthroughs bringing us closer to a cure to speed up the progress that will improve survivorship and quality of life for breast cancer patients today," writes Myra J. Biblowit, the foundation's CEO.
More on BCRF partners and Lokai's pink bracelet can be found online. In Canada, the bracelet is available through ItalGem Steel. For further information, contact info@italgemsteel.com.