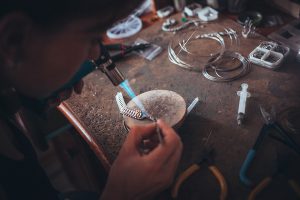 Designers wishing to enter the Luxury Awards—a new competition introduced for the 2018 Luxury show in Las Vegas—can still do so until next week.
The contest—which is intended to honour creativity, originality, and excellence in jewellery craftsmanship—closes next Friday, April 20. To enter, designers and manufacturers exhibiting at Luxury can submit images of one of their pieces, along with relevant details such as the design's inspiration, price, and availability.
Submissions should fall within one of the event's six categories, which include:
bridal;
finished coloured gemstones;
finished diamond pieces (non-bridal);
design;
high-end fashion (including timepieces and mixed metals); and
Luxury debut.
Up to two pieces can be submitted in two different categories.
Judges will select three finalists before the show begins, then visit those exhibitors at the event to view the chosen pieces and finalize their selections. Winners will be announced at the Luxury Breakfast on May 31, and will receive a trunk show and coverage in JCK's magazine, website, and social media.
A companion show to JCK Las Vegas, Luxury will run from May 30 to June 4. For more details or to enter, visit the event website.