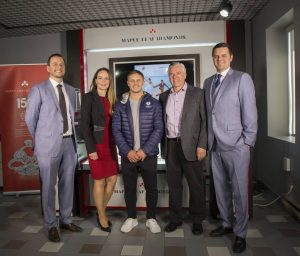 Maple Leaf Diamonds has announced it will sponsor Canada's first professional rugby team in its inaugural season as part of England's Kingstone Press Champion League. The Toronto Wolfpack is also the world's first transatlantic major professional sports team.
"We were introduced to the Toronto Wolfpack in September as guests at one of their playoff games," said Michael Minister, director of Maple Leaf Diamonds. "We immediately knew the Wolfpack was a brand we wanted to associate with. We have some imaginative and novel ideas to maximize this partnership both in Canada and the U.K., and cannot wait to develop these as the season progresses."
One of these ideas involves giving away $5000 worth of Maple Leaf Diamonds merchandise as prizes on game days. Additionally, as of early January, jerseys will be available with the Maple Leaf Diamonds logo and worn in preseason games.
"The Maple Leaf Diamonds logo looks incredible on the jersey, and we cannot wait to see the players run out in it in the new year," said Paul Rowley, the team's head coach. "Having spent time at the offices and meeting some of the staff, I know this is going to be an excellent partnership for the Wolfpack going forward."
Maple Leaf Diamonds is a Canadian diamond brand with a strong focus on traceability.
"This fantastic partnership sees the Wolfpack proudly associate with a premium product and one of Canada's prestige brands," said Scott Lidbury, the team's general manager. "Through this deal we hope to see the expansion of both brands in Canada and the U.K."