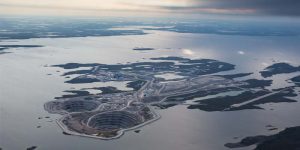 At the Northwest Territories' Diavik mine, another diamond pipe has entered production. This open-pit pipe, referred to as A21, brings the number of pits at the mine up to four. It is intended to help operator Rio Tinto maintain production levels over the next four years.
"This investment … reflects the strong outlook we see for the diamond industry," said Arnaud Soirat, the operator's chief executive, copper and diamonds. "It is a remarkable achievement to deliver this project safely and ahead of time in such a challenging environment."
A21 opens after four years of construction, with full production expected by the fourth quarter of 2018. Rio Tinto and its partner, Dominion Diamond, funded the project with a US$350-million investment. Of this amount, 60 per cent was provided by Rio Tinto, with 40 per cent coming from Dominion.
"Our people can take great pride in their achievement to safely bring the A21 pipe from development to commercial production," said Patrick Boitumelo, the mine's president. "This new pipe is great news for the Northwest Territories and will help to deliver economic and social benefits that will endure beyond the life of the Diavik mine."
The pipe's operating life kicked off with a celebration attended by members of the Indigenous community, joint venture partners, Rio Tinto staff, and guest of honour Wally Schumann (the Northwest Territories' minister of industry, tourism, and investment).