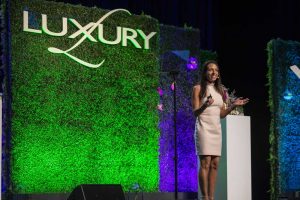 As JCK Las Vegas readies for next year's move to the Sands Expo and Convention Center, changes are being made to the show's management team. Sarin Bachmann has been promoted to event vice-president for both JCK and Luxury.
Bachmann is no stranger to the Vegas shows, taking on the expanded role after serving for six years as industry vice-president for Luxury. She will take an active role in running JCK Las Vegas in her new position.
"Sarin has proven to be an exceptional, customer-focused leader and has greatly improved the Luxury show for both exhibitors and retailers. She listens to her customers, acts on feedback, and continues to innovate and elevate the Luxury experience," said Yancy Weinrich, senior vice-president of show organizer Reed Jewelry Group. "We feel confident Sarin will bring similar strategies to JCK to create a productive, efficient, and memorable event for everyone next year."
Bachmann is stepping into the position in place of Katie Dominesey, who is departing JCK Las Vegas to join Reed Exhibitions' mergers and acquisitions department. However, Dominesey will remain involved with JCK Tucson, which is scheduled to run at JW Marriott Tucson Starr Pass Resort & Spa from February 6 to 19.