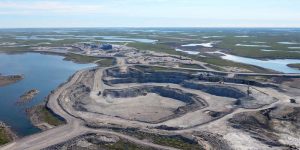 An exploration program currently underway at the Northwest Territories' Gahcho Kué mine has started to pay off. Drill testing in the corridor between the 5034 and Tuzo kimberlite pipes, completed in accordance with the mine's three goals, has revealed more kimberlitic material with true intercepts up to 72 m (236 ft) in thickness. Located mainly between 5034's north lobe and the North Pipe, the material extends to a depth of 248 to 350 m (813 to 1148 ft).
The program's remaining two objectives (drill testing between Hearne Pit's north and south lobes and at the 'Curie target' between the Tesla and Tuzo pipes) have also met with success. For instance, the most recent results confirm kimberlite intercepts of up to 52 m (170 ft) have been found at the Curie target, intersected at a depth of 18 m (59 ft). Kimberlitic material was also confirmed at Hearne Pit in July.
"Our continued success in this near-mine exploration program is very encouraging," said Stuart Brown, CEO of Mountain Province Diamonds, which co-owns the mine with De Beers Canada. "These significant kimberlite discoveries are well within the present mine plan area and there is little doubt that, if economic, they will contribute tonnage to extend the mine life at Gahcho Kué."
Brown says 2.2 to 4.2 million carats could be added to the mine's resource, although model and resource estimates will not be completed until the first quarter of next year. All exploration surveys, as well as drilling and sampling programs, were completed by De Beers Canada.