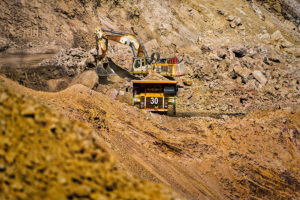 After a 26-year run as managing director of Debswana, a joint venture between De Beers and the government of Botswana, Balisi Bonyongo has left the organization. Albert Milton, who previously served as general manager of the Jwaneng diamond mine, stepped into the role on December 1.
Bonyongo first took on the position in 2014 and has led Debswana through several key developments, including an improvement in the company's total recordable injury frequency rate (TRIFR) and the progression of major projects such as the transformation of the Letlhakane mine to a tailings plant-based operation. He will remain available in a consultant role for three months as Milton transitions in.
"I would like to say a huge thank you to Balisi for his exemplary leadership of Debswana over the years," said Bruce Cleaver, CEO of De Beers and chair of Debswana. "Both of Debswana's shareholders—the nation of Botswana and De Beers Group—have benefitted from his excellent stewardship of the business and it has gone from strength to strength."
Milton served as the Jwaneng mine's general manager for five years, having joined after another five-year stretch as general manager of Morupule Coal Mine (MCM). During his tenure at MCM, he led an expansion of the mine's production from one million to 3.2 million tonnes per year.
"Balisi has developed not only the operations, but also the people of Debswana, leaving a strong legacy behind him. I am pleased to say Debswana will continue to benefit from that leadership legacy as Albert will be taking all his many years of outstanding experience in the organization to lead Debswana in its next chapter," said Cleaver. "There are very exciting times ahead for Debswana with a huge amount of opportunities on the horizon and I believe Albert is the ideal candidate to take the business forward and maximize its potential."