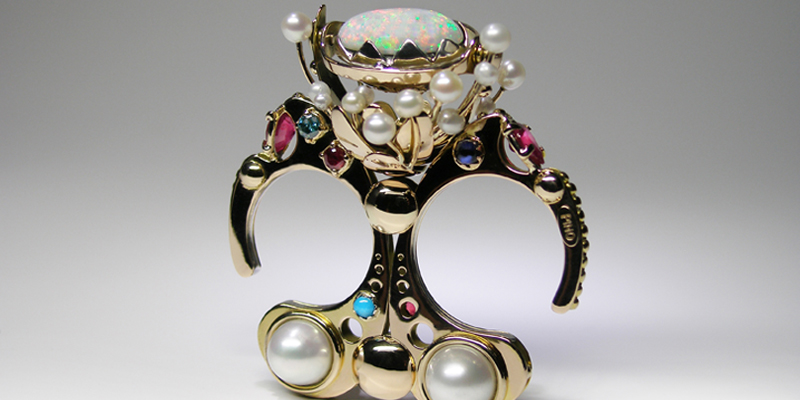 Fourteen Quebec jewellery artists will take centre stage in New York City this week, debuting at the Aaron Faber Gallery.
Entitled "Innovation and Craftsmanship in Metal: Jewelry Artists of Québec," the exhibition and trunk show includes designs from the following:
• Antonio Serafino, and business partner, Annegret Morf of Serafino;
• Elise Bergeron;
• Laurie Dansereau;
• Roland Dubuc;
• Gustavo Estrada;
• Jean-Pierre Gauvreau;
• Janis Kerman;
• Christine Larochelle;
• Lynn Légaré;
• Claudio Pino;
• Matthieu Cheminée;
• Barbara Stutman; and
• Pierre-Yves Paquette.
The exhibition is a joint initiative between the Quebec Government Office in New York and Société de développement des entreprises culturelles (SODEC), a branch of the government that promotes and supports the development of cultural enterprises in Quebec and abroad in the fields of film, television production, publishing, crafts, visual arts, and music.
"The Quebec jewellery artisans are passionate and talented; of their minds and their hands are born true wonders," said Minister of Culture, Communications and Status of Women, Christine St-Pierre.
"No doubt, the New York audience will be charmed by the uniqueness and quality of their creations. It is essential all areas of Quebec culture can enjoy an international market. That is why I am delighted this showcase is organized in jewellery and I thank the Quebec Government Office in New York and SODEC, which contributed to its achievement."
The exhibition runs through May 26.