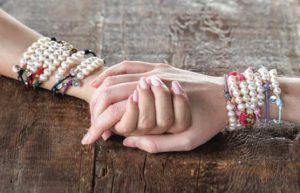 Nishi Pearls has introduced a glowing way to give back this holiday season. With the launch of its Second Chance Bracelet, the company is embarking on an initiative to support the skill development of female newcomers to Canada.
Stackable and handcrafted, the bracelet features numerous colour and metal accent options as well as—of course—cultured freshwater pearls. All proceeds from Second Chance Bracelet sales will be used to fund gemmology training for women new to Canada, enabling them to evaluate, grade, and sell gems.
"During the past few years, Canada has welcomed thousands of newcomers. Language, culture, and finding jobs all present challenges," said Pierre Akkelian, president of Canadian Gem, chair of the Nishi Pearls board, and past president of the Canadian Jewellers Association (CJA). "Helping disadvantaged women gain skills, a support network, and access to employment is the key to helping them integrate."
Indeed, according to the 2016 Annual Report to Parliament on Immigration, improving skills and finding employment are top priorities for female refugees, who comprised 49 per cent of all refugee claimants that year. By introducing women to the gems and jewellery industry, Nishi and its partners Fondation Y des Femmes, YWCA Montréal, and the Montréal School of Gemmology (EGM) are helping meet those priorities.
"This project is something we hold close to our hearts. As a first-generation Canadian, I am blessed to have grown up in a peaceful country. My brothers and I have benefited from incredible support and community our entire lives," said Alique Akkelian, creative director of Nishi Pearls. "By helping these women, we pay homage to our ancestors. In time, we hope they'll find the peace and prosperity that Canadians cherish."
The team has set an initial fundraising goal of $20,000. In a recent appearance on Breakfast Television Montréal, Alique Akkelian and Isabelle Lajeunesse (executive director of Fondation Y des Femmes) announced half that target has already been reached. Hopes are high the full objective will be met by the end of the year.
More information on the bracelets and an option to donate to the cause are available online.