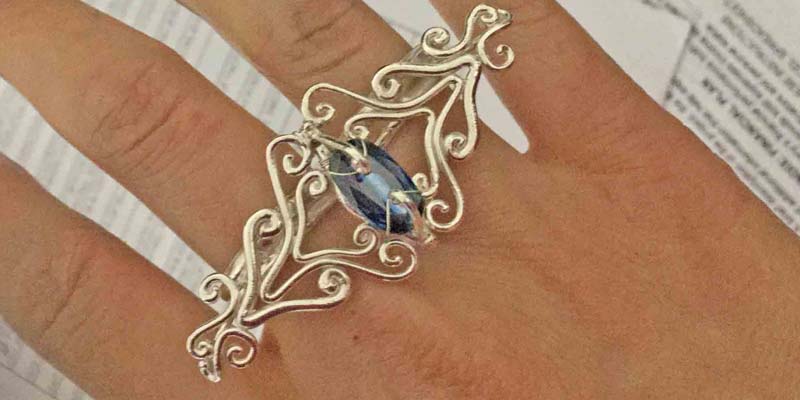 When Prisilla Hui heard this year's theme for the Giovanni Vaccaro Family Scholarship was 'ladies' night out,' she looked to the Roaring Twenties for inspiration.
And it seems to have paid off for the third-year student at Ontario College of Art and Design (OCAD), who was awarded the scholarship for her double-finger silver ring set with an oval bi-coloured kyanite.
'For me, the theme 'ladies' night out' is an elegant evening where girls are able to dress in their most made up outfits and adorn themselves with jewels that stop people in their tracks to just stare," Hui tells Jewellery Business.
"I imagined 1920's flapper girls and Victorian silhouettes for the inspiration in the design of the ring. This would also be the piece I myself would wear to a ladies' night out."Â 
Co-sponsored by CJEXPOS and Beverly Hills Jewellers, the Giovanni Vaccaro Family Scholarship bestows a $3000 grant on a student enrolled in a Canadian college offering a jewellery program, while the school receives a $1000 gift. The award also includes an expense-paid trip to the Jewellers Vigilance Canada (JVC) Ball in November where the winning design is put on display. The winner also receives exhibition space at either CJExpos 2016 event, along with post-show profile advertising. Entries are required to have an estimated retail value of $1500 and the winner is determined by attendees of CJEXPOS.
Hui says she will use her winnings to enrol at Gemological Institute of America (GIA), pay for materials, and buy her own bench.
"This scholarship will definitely help my career as an emerging designer and encourages me to continue to work harder in achieving my goals and dreams of being a successful designer," she says. "I'm very grateful to be able to include this in my achievements on my résumé, which will definitely help me in my career path as an emerging designer."