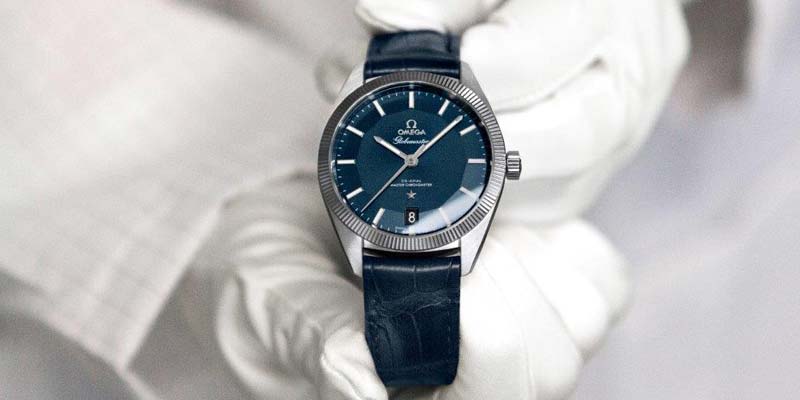 Omega has unveiled its first watch to be certified a 'Master Chronometer,' a rating it co-developed with the Swiss Federal Institute of Metrology (METAS).
Globemaster is the first timepiece to receive the certification. It made its debut at a press conference at the company's headquarters in Biel, Switzerland.
Omega announced the collaboration in 2014, saying there was a need for the certification, as the increasing number of magnets in our daily lives is having a greater effect on the performance of watches.
METAS—which is the branch of the Swiss government responsible for all matters involving measurement and measuring procedures—tests watches for their precision during and after exposure to magnetic fields greater than 15,000 gauss. To receive the certification, a timepiece must perform within a tolerance of 0 and +5 seconds per day for autonomy (functioning without winding, measured in hours) and water resistance.
"We all know about the importance of beautiful products, history, and innovation," said Swatch Group chief executive officer (CEO) Nick Hayek. "But one other thing is so important and that's trust for our consumers. By working with an independent organization such as METAS, we can be transparent for the consumer and reconfirm the Swiss watch industry is the leader in precision and innovation."
Christian Bock, director of METAS, reiterated Hayek's message regarding the importance of consumer confidence.
"Trust is the core of our business at METAS," he said. "We are a government agency, the leading centre for all measurements in Switzerland. And above all, we are consumer- and client-driven. That's why it was important to ensure this new standard for mechanical watches is open to every brand."
At the time Omega announced the new certification, Hayek suggested the Contrôle Officiel Suisse des Chronomètres—the office responsible for certifying the accuracy and precision of watches produced in Switzerland—had been lagging in recent years.
Rather than testing the movement as COSC does, the new certification will test the finished watch.
Owners of Omega watches that are certified by METAS will be able to access the results and test parameters of their timepieces online.