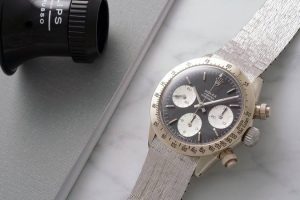 Watch enthusiasts can take advantage of an extremely rare opportunity at Phillips' 'Daytona Ultimatum' auction this May. One lucky buyer will take home 'the Unicorn,' the only known vintage Rolex Daytona to be made in white gold.
Manufactured in 1970, the Unicorn seems to be a unique creation, as prior to its discovery, it was believed all manually wound Daytonas were produced in stainless steel or 18- or 14-karat yellow gold. This piece, a Cosmograph with reference number 6265, has a white gold case and bracelet and is in very good condition, displaying few signs of aging. The bracelet is not original to the watch, but was added by its current owner, collector John Goldberger.
This is the first time the Unicorn has appeared at public auction, as Goldberger has long maintained he never intended to sell it. So what changed his mind?
In an interview in Rome last month, the collector said he wished to extend the watch's positive impact beyond his own personal satisfaction. To this end, its sale will benefit humanitarian organization Children Action, which spearheads various initiatives to support young people around the world.
"By giving most probably the rarest vintage Rolex watch, John Goldberger is not only making a phenomenal philanthropic gesture, but he is also contributing to provide a long-term positive difference in the lives of thousands of children," said Bernard Sabrier, founder of Children Action. "The foundation is honoured to be the recipient of such a tremendous donation."
Phillips will sell the Unicorn—along with 31 other rare Daytonas—in association with Bacs & Russo on May 12 in Geneva. For more information, visit the Phillips website.