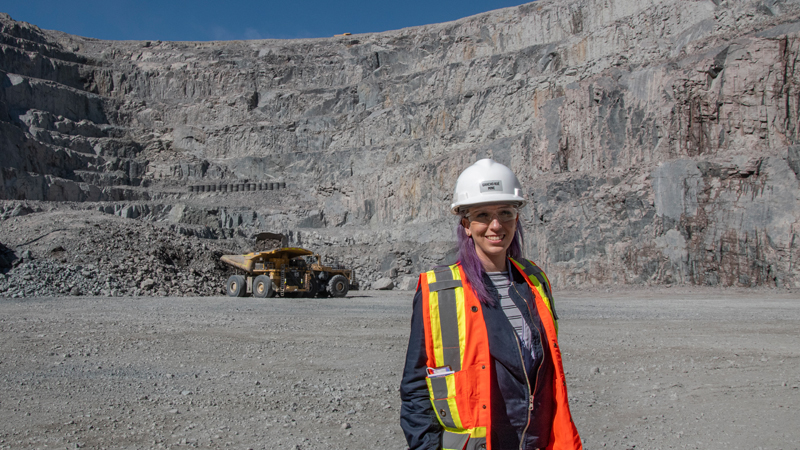 An emerging Canadian jewellery designer recently got a first-hand look at diamond mining practices in the Great White North during a trip to De Beers' Gahcho Kué Mine in the Northwest Territories.
Emily Vander Vlugt of Guelph, Ont., was invited to visit the site after being named second runner-up in the 2020-2021 De Beers Group Designers Initiative Shining Light Awards. During her four-day visit to the mine, the designer learned about diamond sorting and evaluation, touring the process plant and spending time in the sorting house where diamonds are recovered. She also got to try her hand at polishing while visiting the Diamonds de Canada facility in Yellowknife.
"From my experience, Gahcho Kué Mine has shown the natural diamond mining process is just as special as the diamonds recovered," Vander Vlugt says. "Safety is the number one rule and I learned if work cannot be done safely, it won't be done at all."
Vander Vlugt's tour of the mining operations included a ride-along in a 200-tonne haul truck, as well as observation of on-site environmental monitoring and insight into how the remote site functions like a small town.
"It is important to not only protect the employees but to protect the environment," she says. "[De Beers is] aware of the well-being of wildlife and preserving their habitat, as it has a full team dedicated to ensuring the safety and protection of the environment."
"As part of the conversations I had with each department, it was demonstrated to me the high level of training and knowledge of the process that each person is responsible for," Vander Vlugt adds.
De Beers' Shining Light Awards take place every two years with three winners selected from each of the company's diamond producing partner countries of Canada, Botswana, Namibia, and South Africa. For the last cycle, judges reviewed a record 123 entries from the four countries.
Last year, Jewellery Business spoke to Vander Vlugt, as well as the awards program's other Canadian recipients, Valerie Lamiel (first prize) and Virginia Muralt (first runner-up). To see the exclusive interviews, click here.