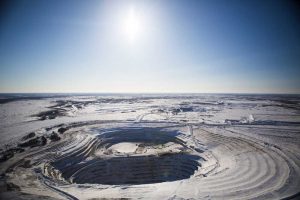 Exceptional safety standards have earned De Beers Canada's Victor Mine two accolades from separate industry organizations. The Ontario-based mine—which is scheduled to close early next year—received the awards for achievements related to health, safety, and injury prevention.
The first of the two was granted last month at the Mining Health and Safety Conference in Sudbury, Ont. Presented by Workplace Safety North, the Workplace Excellence Award honours high performance in health and safety.
The mine also earned a John T. Ryan Award from the Canadian Institute of Mining, Metallurgy, and Petroleum (CIM) this week. In recognition of low reportable injury rates, this trophy was granted at the institute's awards gala in Vancouver.
In the case of both awards, this is the mine's third consecutive win.
"The team was extremely proud to receive these awards, which are recognition of the safe production culture developed by our employees and contract partners over the past 10 years," said Alistair Skinner, Victor Mine's operations manager. "Victor Mine has worked very hard to build a legacy of being one of the safest mines in Canada, and we want to continue this tradition by finishing our final full year of production with another strong safety performance as we wind down operations in early 2019."