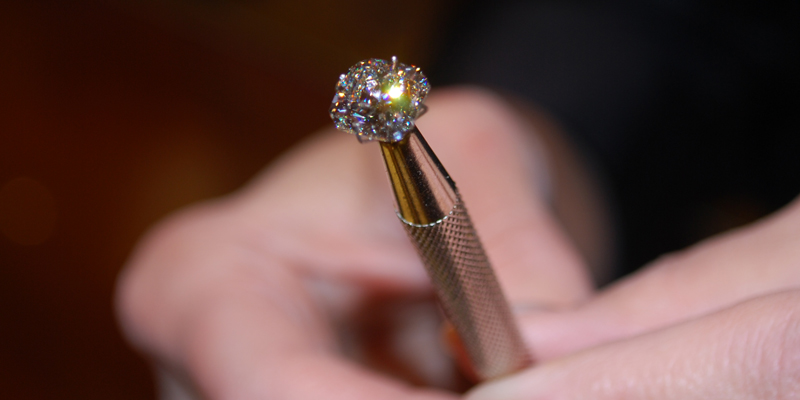 There's a bit more homegrown diamond sparkle out there.
Diamond aficionados got their first look at 'Made in Ontario' diamonds last week, as Birks officially unveiled 100 stones from De Beers' Victor Mine at its Toronto flagship store.
Grown and groomed in northern Ontario, the diamonds are the first to go from the mine to the consumer, and sold in the province. It's the final stop in a journey that began in 2008 when De Beers Canada struck a deal with the Ontario government to offer 10 per cent of the mine's production (by value) a year to be cut and polished in the province.
Since then, Crossworks Manufacturing has opened a facility in Sudbury, Ont., where it expects to cut and polish $100 million in diamonds over the next few years.
"After six months of polishing, we have a little glitter in our eyes," said Dylan Dix, marketing director of HRA-SunDiamond Group, Crossworks' parent company.
"People are excited about diamonds that are mined, cut, and polished in Ontario. Tonight speaks volumes about Ontario diamonds. It's a huge signal to the fact that you can make [diamond production] work in Canada."
Canadian diamonds are in high demand among consumers, said Birks president and chief executive officer (CEO) Thomas Andruskevich.
"There is a tremendous amount of Canadian pride associated with these gemstones, which are inextricably linked with the beauty of Canada," Andruskevich said. "At Birks, we have seen this pride when customers ask for Canadian diamonds."
The bespoke diamond event saw 15 rough or polished diamonds sold on the first day, as buyers eagerly snapped up a piece of Ontario's prehistoric past. Buyers picked their own rough, decided on a cut, and designed a piece of jewellery.
Canada's diamond industry, particularly that of Ontario, offers numerous investment opportunities, including generating skilled jobs, said Mining Minister Michael Gravelle. The Ontario government has been working with stakeholders over the last few years to create an expanded diamond industry. Last year, it contributed $170,000 to help establish a 'cradle to finger' diamond pipeline with the opening of the Diamond Bourse of Canada (DBC).
DBC chair Bhushan Vora said Canada's reputation as a diamond-producing nation is growing steadily.
"I get calls every week from non-Canadian companies wanting to buy our diamonds," he said. "Canadians have done a great job in creating a brand value. Conflict-free status is very important."
Jim Gowans, president and CEO of De Beers Canada, said the company is continuing to explore the area around the Victor Mine for more diamond-bearing kimberlite pipes. "The Victor diamonds continue to amaze De Beers. Our managing director, Varda Shine, wants me to find another Victor and our exploration team is working on that."
Canadian jewellery designer Reena Ahluwalia was one of the first to handle diamonds from the Victor Mine, creating the setting that holds two unpolished stones in the Queens Park mace.
"As a designer, there's a sentiment that resonates very strongly with me," she said of Ontario's diamonds. "They're symbolic and make a very strong statement about our identity and individuality. This is an incredible opportunity to process conflict-free diamonds. They're stunningly pure and high quality."
The remaining Victor diamonds will be put on exhibit and for sale at other Birks locations across Canada and will return to Toronto in time for the international film festival in September.
The Victor Mine—Ontario's first diamond mine—is located in James Bay Lowlands on the traditional lands of the Attawapiskat First Nation reserve.