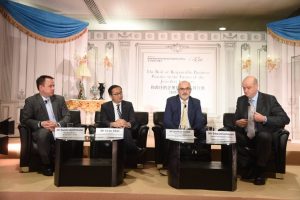 On March 1, a panel at the Hong Kong Trade Development Council's (HKTDC's) Hong Kong International Jewellery Show offered insight into the ever-shifting future of the trade. Titled 'The Role of Responsible Business Practice in the Future of the Jewellery Industry,' the talk focused on how changes in technology, consumer demographics, and the customer/producer relationship affect the question of ethical business behaviour.
Panelists included:
The discussion kicked off with a look at the biggest ethical challenges confronting the jewellery trade today, with each participant highlighting concerns such as the advent of synthetic gems, small businesses' struggle to keep up with new legislation, and how to maintain corporate social responsibility (CSR).
Just as important as these issues, however, are those the industry will face in the future. Much of the panel discussion centred on the increasing role of technology and social media in business, with more than one participant noting the digital world's ability to dissolve barriers created by language and distance and facilitate immediate consequences for unsatisfactory performance.
According to the panelists, it will be crucial to bear such consequences in mind going forward—particularly as the post-millennial consumer, or generation Z, grows in purchasing power. These social media-savvy, tech-focused individuals not only have the digital skills to track down information and share feedback quickly, but also display a strong affinity for ethics and transparency.
In other words, panelists agreed, jewellers will need to conduct their business with high levels of responsibility and openness if they are to satisfy the consumer of the future.