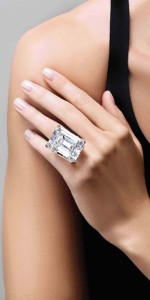 The gavel fell on a bid of $22 million US for a 100.20-carat emerald-cut, D-colour diamond at Sotheby's 'Magnificent Jewels' auction.
At $220,459 US per carat, the stone is the largest ever sold at auction in New York and the highest price for any colourless diamond auctioned in New York.
"This diamond is exceptional in every sense of the word, and we were thrilled to see it achieve such a strong result," said Lisa Hubbard, chair of Sotheby's international jewellery division, North and South America.
"The stone captivated people around the world throughout our extensive travels this spring, but it was a particular privilege to offer it at our New York headquarters. Including [this auction's] result, only six perfect diamonds weighing over 100 carats have sold at auction in the last 25 years, a testament to the incredible rarity of these stones. Sotheby's sold five of those spectacular diamonds, including sales in Geneva, Hong Kong, and now New York."