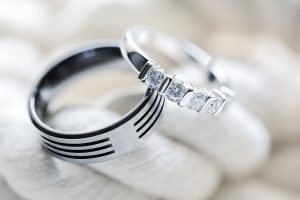 The global platinum jewellery market enjoyed steady retail sales in the first quarter of 2018, reports Platinum Guild International. In a recent review, the guild assessed platinum jewellery sales results by both value and unit in four countries.
Bridal pieces remain a primary driving force in the industry—in China, for example, overall platinum jewellery sales suffered due to lacklustre marketing, but sales of bridal jewellery made with the metal remained steady. Similarly, the bulk of platinum jewellery sales in the United States involved engagement rings and wedding bands. The United States maintained solid performance overall, with 77 per cent of businesses in the country noting platinum sales remained at the same level as or higher than in 2016.
The other two countries examined in the review, India and Japan, both performed fairly well, with India taking the lead. India's platinum jewellery sales exceeded both gold and diamonds, buoyed by the benefits of the country's strong organized trade sector. In Japan, sales of jewellery made with platinum grew slightly despite overall jewellery sales decline.
To read the full report, click here.