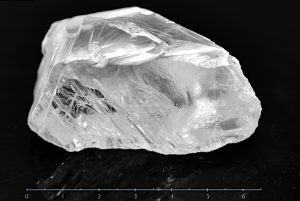 The Constellation Diamond is set to undergo the first stage of processing following its discovery in Botswana two years ago. The 813-carat stone will be laser cut at the Synova laser-cutting facility in the Israel Diamond Exchange (IDE).
"This is the Diamond Exchange we strive for—innovative, creative, and energetic," said Yoram Dvash, IDE's president, of the diamond's arrival.
Found by Canadian producer Lucara in the Karowe Mine, the gem earned the title of the world's most expensive rough when it was sold at a private Sotheby's auction in 2016. Dubai's Nemesis International bought it for US$64 million. It has since been acquired by De Grisogono, a luxury jeweller that will oversee the rough's transformation into polished diamonds.
It is estimated the Constellation Diamond will produce two polished stones, both of D colour and flawless clarity. It is thought the smaller of the two will be 100 carats, while the larger will be one of the world's biggest certified flawless diamonds at 325 carats.