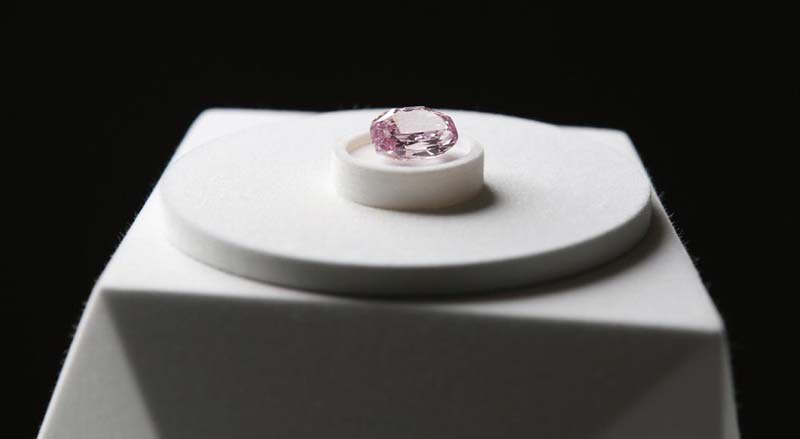 An 'exceptionally rare' fancy vivid purple-pink diamond weighing 14.83 carats might fetch up to C$50 million when it goes under the hammer at Sotheby's next month.
Dubbed 'The Spirit of the Rose,' the stone was cut from the largest pink crystal ever unearthed in Russia. The 27.85-carat clear, pink rough was discovered at Alrosa's Ebelyakh deposit in 2017.
"The occurrence of pink diamonds in nature is extremely rare in any size," says Gary Schuler, worldwide chair of jewellery for Sotheby's. "Only one per cent of all pink diamonds are larger than 10 carats and only four per cent of all pink diamonds are graded 'fancy vivid' and display a rich, vivid colour."
The internally flawless stone, which is the largest purple-pink diamond to ever appear at auction, carries a pre-sale estimate of C$30.4 million to $50.2 million.
"Having the opportunity to offer a large polished pink diamond of more than 10 carats and with the richness of colour and purity of 'The Spirit of the Rose' is truly exceptional," Schuler says. "The diamond's character and immense presence is further enhanced by its perfect cut and oval shape: the numerous facets and shades of pink dance in front of your eyes in a mesmerizing way. It is a natural wonder, steeped in Russia's century-long diamond tradition and cultural heritage."
For more, click here.