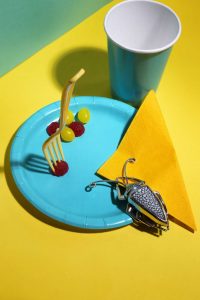 Québécois jewellery designers will have a turn in the limelight at an upcoming exhibition at Toronto's 18Karat Studio + Gallery. 'Biophilia: Expressions in Metal' will showcase pieces reflecting how metal artists interact with the organic world from July 4 to October 31.
Three Québec jewellers will have their work featured in the exhibition: Dominique Audette of Québec City, Claudia Gravel of Montréal, and Caroline Arbour of Amos, Qué. Gravel's business, Métal en Bouche, offers pieces inspired by balance and contrast, focusing on the equilibrium that can be achieved between opposing forces such as darkness and light.
Audette's work takes an artistic bent. She draws on movements such as Fauvism and expressionism to craft colourful, dynamic pieces in resin and sterling silver.
Arbour—the founder of Scaro Jewellery—bases her pieces more directly on nature, using the motif of the beetle in every piece she crafts. This has been her focus since her days studying at Québec City's Pavillon Technique, when she says she rescued a beetle from a passing car.
"I bent down to pick up this long-horned beetle, hid it in the palm of my hand, and observed it for several minutes. Brown in texture with motifs, somewhat shiny, brave and strong," she says of the incident. "From then on, the jewellery I sculpted would be in the form of beetles. It is more than just a simple fascination; I grew to respect this mythical and mystical insect."
More details on the exhibition are available here.