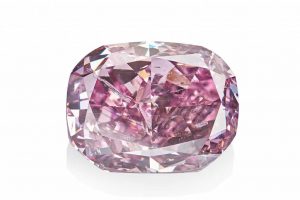 A cushion-cut, fancy deep purple-pink diamond will brighten up Alrosa's first 'True Colours' auction, to be held September 19.  At 11 carats, the Gemological Institute of America (GIA) reports this is the largest diamond of that colour it has ever certified.
The gem will be presented as one of 250 colourful offerings (including a 15-carat vivid orangey yellow diamond and 11-carat fancy vivid yellow diamond) produced by the Russia-based miner. Alrosa's deputy CEO, Yury Okoemov, says it took more than a year to prepare the collection of polished stones, which will be showcased at the Hong Kong Jewellery & Gem Fair from September 12 to 18.
An electronic platform will be used to sell the diamonds, following its successful implementation in previous sales of large stones. Going forward, Alrosa says it intends to hold versions of the sale at least once or twice per year.