Report looks to the future of precious coral
October 11, 2018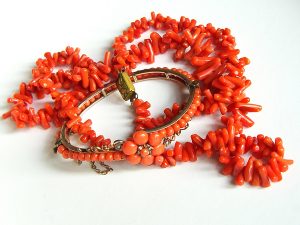 The World Jewellery Confederation[2] (CIBJO) took a deep dive into the issues surrounding precious coral in its most recent report. Covering everything from harvesting regulations and repopulation to blockchain and industry education, the Coral Commission Special Report[3] explores challenges and opportunities related to the sustainability of this resource.
In the document, Coral Commission head Vincenzo Liverino notes the protection of precious coral will only benefit the planet and the jewellery supply chain.
"The industry encourages the enforcement of the current regulations and, as more scientific data on existing [precious coral] populations becomes available, hopes that harvesting and conservation practices will be adapted so that resources are better managed, which is in the best interest of not only the ecosystem, but also the trade," he writes.
Liverino also offers an overview of current research projects focusing on coral. For example, in Japan, the Precious Coral Protection and Development Association and Kuroshio Biological Research Foundation[4] (KBRF) have grown small coral branches in controlled conditions in tanks before attaching them to reef-growing blocks 100 m (328 ft) underwater. Growth rates are strong, and the coral is achieving a 99 per cent survival rate.
The report also touches on an educational course on coral that will run at the upcoming CIBJO Congress[5] (bound for Bogotá, Colombia, from October 15 to 17). Retailers selling jewellery made with this resource will have the opportunity to learn more about its history, biology, various species, treatments and imitations, relevant regulations, and care.
"It is hoped that the online course syllabus could become a model and primary reference for gemmological and jewellery schools creating their own educational materials," writes Liverino. "They too have a primary role to play in raising general awareness about precious coral and the sustainability of harvested gem materials within the trade."
Endnotes:
[Image]: https://www.jewellerybusiness.com/wp-content/uploads/2018/10/bigstock-Corals-1336993.jpg
World Jewellery Confederation: http://www.cibjo.org/
Coral Commission Special Report: http://www.cibjo.org/congress2018/wp-content/uploads/2018/10/CIBJO-Special-Report-2018-Coral.pdf
Kuroshio Biological Research Foundation: http://www.kuroshio.or.jp/Kuroshioweb_English/top.htm
CIBJO Congress: http://www.cibjo.org/congress2018/
Source URL: https://www.jewellerybusiness.com/news/report-looks-to-the-future-of-precious-coral/
---