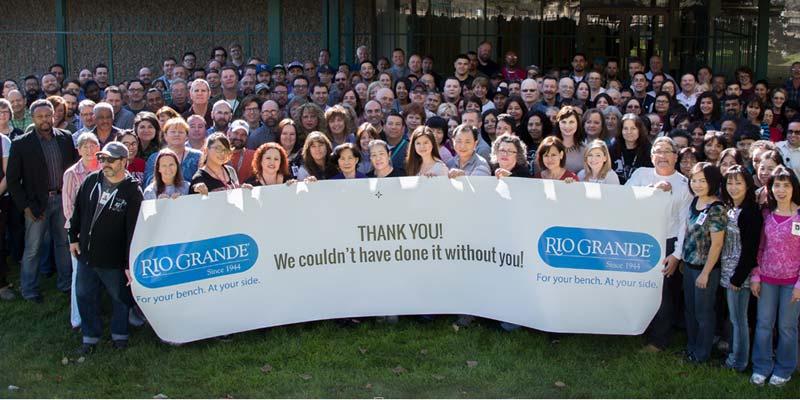 Albuquerque Business First has chosen jewellery-making supply company Rio Grande as one of the 'Best Places to Work' in its 10th annual survey.
With 400 employees, Rio Grande was one of five businesses recognized in the 'Very Large Companies' division for 2015. The company took home the same honour in 2012 and 2010.
Rio says its achievements are a credit to its employees, who play a central role in its success.
"Rio's culture promotes growth and the development of exceptional colleagues," said Jamie Gros, its creative director. "In the many, many years I've been with Rio, I've worked with some of the most intelligent, hardest-working, and dedicated people. This is due to the great environment Rio Grande has built over the years. The 'Best Places to Work' award really confirmed what I have come to know from my daily work."
Rio Grande was founded in 1944 by Saul Bell and purchased three years ago by Richline Group, a Berkshire Hathaway Co. It continues to be led by second-generation Bell family members, including Alan, Molly, and Eddie.
"Rio Grande has a wonderful and diverse group of associates who are willing to share knowledge and give each other a hand," says Teresa Sexton, a training team associate who started in Rio's customer care centre five years ago.
"In the onboarding sessions for new hires, we frequently hear how 'at home' people feel here and how amazing it is that we welcome questions and ideas—many associates have not experienced that anywhere they have worked."
A total of 35 small, medium, large, and very large companies from across New Mexico received "Best Places to Work" accolades this year. Winning scores were derived from confidential third-party surveys given to employees at participating companies.
Albuquerque Business First is a weekly business publication with more than 16,000 readers across New Mexico.