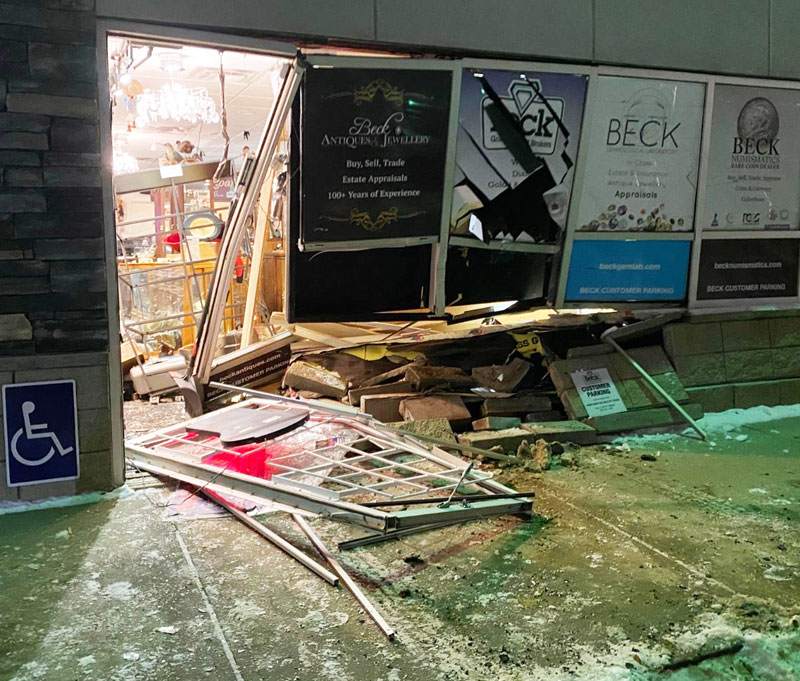 A thwarted robbery involving a raging pick-up truck and a busted storefront has left an Alberta jewellery shop bruised, but not broken.
In the wee hours of Nov. 23, Clinton Beck, the owner of Beck Antiques & Jewellery in Edmonton, was alerted that his smokescreen security system had been deployed after would-be robbers rammed a truck into his store.
"I got the call at 3:30 a.m. that our alarm was going off," Beck tells Jewellery Business. "I checked the cameras and the place had filled with smoke. A few minutes later, I got a call from the police, saying they were already there and that a truck had, basically, bashed into the wall of the store."
Beck arrived at his shop to find police and firefighters already on the scene. Officers told him the robbers had backed a black pick-up truck into his storefront, leaving a large hole in the brick wall and causing significant damage to the shop's interior.
"They literally took out the front of the store with a truck," Beck says.
Despite the damage, the intruders did not take much merchandise, leaving only with a plastic casing for a rocket launcher, a British WWI sword, and a silver box.
Beck attributes the minimal loss to his store's security system, which includes the aforementioned smokescreen, as well as blaring alarms.
"We have a very high-tech security system," he tells JB. "It's like a James Bond-style thing. As soon as the alarm goes off, the space is filled with a thick fog so you cannot see anything. It makes the store impossible to rob because you can't see your hand in front of your face. It works really well."
The intruders took off in their truck before the police arrived.
"I would say they're not professionals," Beck says. "They were a couple clowns. They got away, but they weren't able to steal much of anything."
"They obviously didn't do their research into who they were trying to rob," he adds. "Everything we have is put away at night, and then we have the smoke machine, as well as other security measures in place."
Beck, who owns three shops in the Edmonton area, says this was not the first time one of his locations had been hit, and that his past experience has led him to 'prepare for the worst,' via top-notch security measures and fortified store layouts.
"We always try to think in advance of what someone would do if they tried to rob us," he says. "We design our stores with cabinetry along the outside walls. So, if somebody drives a truck through the wall, it creates a debris field that is so thick and hard to get through that, even if there is an opening [in the wall] for someone to crawl through, it's so hard to get in and out and it takes so much time that it's impossible to really rob us—and that's exactly what happened."
Beck, who carries custom and antique jewellery and also offers repair services, says the damage to the front of the store is anywhere from $25,000 and $50,000, plus, on top of that, is the cost of the destroyed cabinetry and products.
"We lost, probably, two showcases of pieces from the 1800s," Beck tells JB. "We were sad to see those go, as they're irreplaceable. All in all, though, we made out as well as we possibly could have hoped for in the whole scheme of things."
Despite the incident, the shop was open for business as usual the following morning at 9 a.m.
"My whole team came in at 4 a.m. and we started cleaning up," Beck says. "We had a bin outside for all the debris, and customers were coming in through the open hole. We were fully operational and haven't missed a minute, so we were really fortunate that way."
"We're pretty tough," he adds. "We've done this so many times over 30 years that it doesn't really faze us anymore. Plus, we know [the robbers] can't really take anything and that we're not going to go into an emptied out store, which would be the worst feeling. We're pretty fortunate with the way we do things."