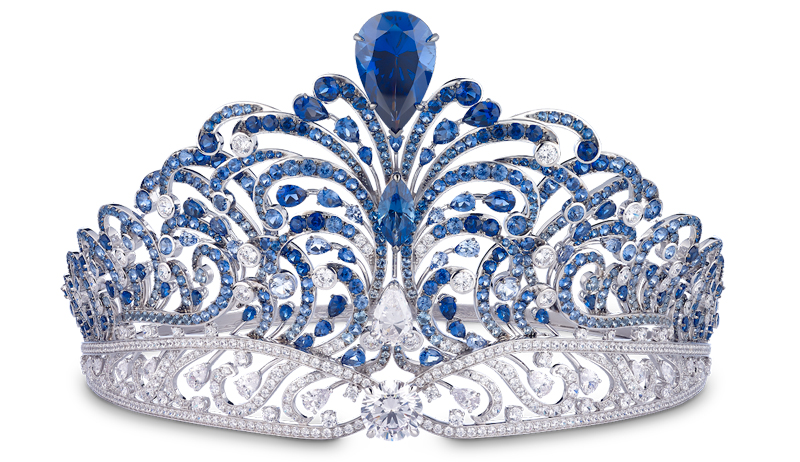 The 45.14-carat pear-shaped sapphire atop this year's Miss Universe crown represents goodness and hope for a brighter future, says its designer, luxury jeweller Mouawad.
Dubbed the "Force for Good Crown," the handcrafted piece features 108.44 ctw sapphire and 48.12 ctw white diamonds. The crown, which is valued at approximately US$5.75 million, emulates a motif of rippling waves, symbolizing change, Mouawad says, adding the diamonds' varying sizes represent gradual momentum.
"As the eye moves upward from the base of the crown, the colour gradient changes from the glistening white of diamonds to the warm blue of sapphires, deepening in intensity toward the pinnacle of the crown," the designer says.
Further, the culmination of wave-like curls at the crown's base mimics. "a serpent's head, symbolizing the challenges involved in swaying opponents and those with a vested interest in maintaining the status quo."
"The Mouawad Miss Universe Force for Good Crown is … completely crafted and set and by hand, featuring 108.44 carat of blue sapphire and 48.12 carat of white diamond in a design that evokes MUO's belief in a future forged by women who push the limits of what's possible and the incredible women from around the world who advocate for positive change," says Mouawad co-guardian, Fred Mouawad.
"The Force for Good Crown stands for a graceful reincarnation of The Miss Universe Organization's long-standing values and heritage as a guiding light, shining bright to the future glory," adds Anne Jakapong Jakrajutatip, CEO of JKN Global Group Public Company, Ltd., owner of MUO. "The new crown is also the dazzling illustration of both the challenges and rewards that come when young women advocate for causes close to their heart and strive makes an impact on the world."
Mouawad has been partnered with MUO since 2019.
For more on the making of the crown, check out the video below, courtesy the designer.