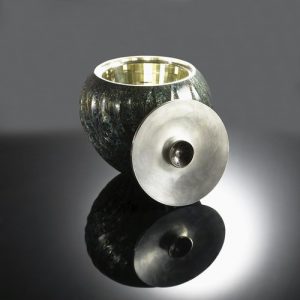 Even as the 2019 Saul Bell Design Award Competition begins gearing up, a winner of one of the contest's previous editions has suffered a loss. The hollowware piece that claimed the grand prize in the 2011 Saul Bell awards has been stolen from the studio of its maker, Wayne Meeten.
Meeten, a U.K. metalsmith, is joining forces with contest organizer Rio Grande to ask the trade for help in locating the stolen piece. The item in question is a hand-raised, Japanese hammer-chased bowl and lid featuring the Mokume-gane technique, a Japanese procedure often employed to produce a 'wood grain' effect. Its interior is silver gilt faceted and also features a Mokume-gane ball.
The bowl can be identified by its maker's mark and hallmarks, which are found on the underside of the lid and read: "WVM. IPG mark Archimedes Drill."
Meeten and Rio Grande are encouraging any members of the trade who encounter the piece or see it offered for sale to contact the designer directly or reach out to England's Devon and Cornwall Police, referencing Crime Number CR/072259/18. The investigation is being led by PC 6850 David Flanin. Meeten can be reached via e-mail at wayne@wvmstudio.com.