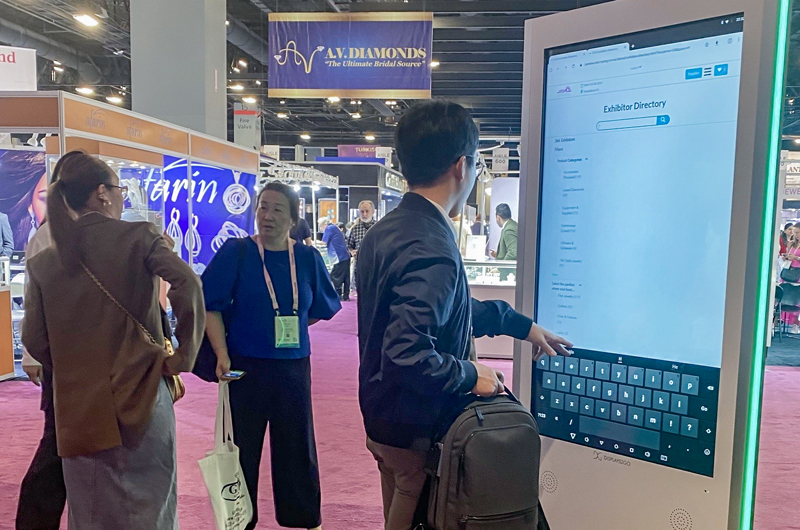 Jewellery retailers on the hunt for the summer's hottest styles gathered in sunny Florida last month for the spring installment of Jewelers International Showcase (JIS).
The three-day event—which invites retailers to assess inventory after the holidays and to meet the immediate re-stocking needs for consumer demand ahead of Mother's Day, Father's Day, graduation, and wedding seasons—concluded on March 28 with increased overall attendance at the Miami Beach Convention Center in Miami Beach, Fla.
"JIS welcomed thousands of buyers from across the globe to experience the wide assortment of products from more than 365 exhibiting companies," says show director, Sara McDonough. "We are thrilled with the increase in attendance from the Caribbean and first-time attendees. We also saw a surge in overall international attendance."
Showcasing a selection of products from fine to fashion, silver, gold, diamonds, and more, the expanded 6,968 m2 (75,000 sf) of show floor featured several key pavilions, including The Galleria, Silver & Fashion, Fine Jewelry, and international areas, including booths for Türkiye and, new this year, the Surat Jewellery Manufacturers Association (SJMA). 
Attendees enjoyed a lively atmosphere with mimosas during peak registration hours, along with a DJ, photo booth, daily pavilion pop-up events, and happy hour in the lounge. Buyers reported they appreciated the JIS expert business tips located around the show floor on column wraps and new digital enhancements aimed at reducing the event's carbon footprint.
"We are continuing to grow to meet the interest and demand of our attendees and will expand and enhance the show with elevated curation of merchandise the industry is keen to discover in the future," McDonough says.
"The warm and sunny Miami Beach weather reflected the recharged energy at JIS Spring," adds marketing director, Lauren van Rensburg. "Attendees could productively shop the show, enjoy mood-boosting touches, and clink glasses at the networking opportunities."
JIS Fall will take place Oct. 13 to 16 at the Miami Beach Convention Center. To pre-register, click here.