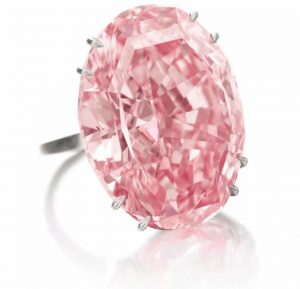 It is likely demand for coloured diamonds will only grow more intense, according to a recent release from Paragon International Wealth Management. To support this idea, the Toronto-based firm cites the past decade's steadily escalating prices for coloured gems.
In 2011, for instance, the Wittelsbach-Graff Diamond (owned by Laurence Graff of Graff Diamonds) sold for US$80 million. The 31-carat, deep blue gem was bought by Sheikh Hamad bin Khalifa, the emir of Qatar at the time.
At Christie's New York in 2013, a pink diamond also sold for a high price. The 34.65-carat Princie fetched a price of US$39.3 million at auction. Two years later, the 12.03-carat Blue Moon diamond also sold at auction, ultimately being bought for US$48.5 million. Today, the trend continues, with Hong Kong-based jewellery retailer Chow Tai Fook purchasing the 59.60-carat Pink Star for US$71.2 million at Sotheby's Hong Kong in April. Even more recently, in September, Graff Diamonds bought Lesedi la Rona (the largest diamond found since 1905 at 1109 carats) for US$53 million.
What does this mean for the present-day retailer? For one thing, coloured diamonds are continuing to be found, with a 27.85-carat pink diamond uncovered in Russia by Alrosa as recently as last month. Paragon also suggests the high-price trend that has marked the gems will continue, as their rarity makes for value that increases with the passage of time.