This month marks the launch of the Society of North American Goldsmiths (SNAG) Connects program, which aims to unite SNAG members both within their regions and globally. A total of 11 SNAG Connects Council Leaders have been named to spearhead this effort. Among them is Toronto jeweller Pasha Moezzi, who represents the group's Canadian members.
"I strongly believe the bigger a community we form, the better a future we will all experience in our careers and professions," he said in an exclusive interview with Jewellery Business. "Given all of this, I am hoping to be a bridge for connecting institutions, people, and events across countries."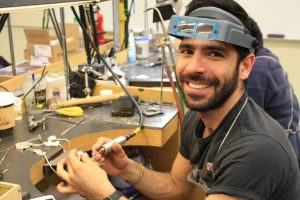 With life and industry experience stemming from his travels throughout Canada and the world, as well as three post-secondary degrees, Moezzi believes his background, interest in the industry, and social nature will help keep him and his region up to date on the latest industry events. He looks forward to his part in helping unite SNAG members.
"Covering all of Canada might be a bit challenging for one person, but certainly fun," he said. "I am excited about bringing a larger Canadian community together and having a greater presence on a global scale. I'm also looking forward to meeting and connecting people in the field, because there is no better feeling for me than to connect people who were meant to be connected!"
Divided by region, Council Leaders are responsible for co-ordinating meetups and events, keeping members informed about new opportunities, and updating the SNAG office on member achievements. They also provide digital content, writing posts for the SNAG Connects blog and creating videos.
"Being a SNAG Connects Council Leader means I can be a bridge to connect our existing SNAG community with others in the field who want to be surrounded and supported by like-minded people," said Moezzi. "I can also inform and motivate more of the existing amazing talents in Canada to join and be more involved with the greater jewellery community, to have a bigger presence on the international level, and to show the world how much the jewellery scene in Canada has evolved."
Council Leaders for other regions include:
Lindsay Minihan for Northeast;
Cyd Rowley for Mid-Atlantic;
Gabrielle Gould for Southeast;
Susan Thornton for East Central;
Jina Seo for West Central;
Teresa Ferris for North;
Sarah Loch Test for South;
Lindsay Snell for Northwest;
Nancy Shapiro for West; and
Lorena Lazard for Mexico.
"I am hoping the council will make it easier for individuals who are interested in reaching out to a bigger community to do so, and help them use available resources to build a better career and form more genuine relationships with their peers," said Moezzi. "By putting people like myself in the forefront to show everyone we all once started from the same place (and that we often evolved by reaching out and asking for guidance), the program gives everyone a chance to see what a bigger community can do for them—to have their voices heard and receive bigger, better support in their careers."
~By Carly Midgley