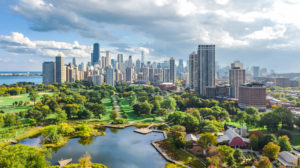 2018 may not be over yet, but preparations are already underway for the Society of North American Goldsmiths' (SNAG's) 2019 conference.
Titled 'The Loop: Coming Full Circle,' this event commemorates the organization's 50th anniversary and will be held in Chicago, the city where its first meeting took place.
Ahead of the conference, SNAG is inviting submissions for several member initiatives. For example, it is offering Conference Student Scholarships (CSS) to student members interested in attending the event. Successful applicants will receive free admission. A deadline of January 21 is in place.
Additionally, student members have until January 31 to submit images of up to three pieces for consideration in SNAG's Juried Student Exhibition. In honour of the group's 50th anniversary, submissions for this year's exhibition should reflect the field's transformation over the past 50 years.
Finally, entries are being invited for a Conference Volunteer T-shirt Design Contest until February 8.
The 2019 conference will run from May 22 to 25 at the Palmer House Hilton. For more information, click here.