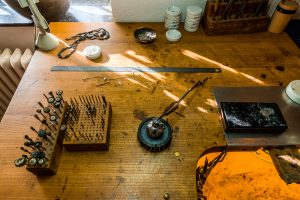 As the Society of North American Goldsmiths (SNAG) approaches its 50th anniversary in 2019, the organization is inviting its members to participate in a digital exhibition. This fifth entry in the We Are SNAG Membership Series has the theme of 'ephemerality,' looking to examine the themes of impermanence and transience through metalwork. Those interested can submit entries until September 15.
As the exhibition will be showcased entirely online, submissions must be made in the form of high-quality photos. Traditional and experimental pieces in a variety of mediums (such as jewellery, body ornamentation, sculpture, and photography) are welcomed, provided they are original works created in the past five years.
Entries will be judged by Kathryn Hall and Sarah Darro, both of whom are based at the Houston Center for Contemporary Craft in Texas. Hall is the centre's curator, while Darro is the current Windgate Foundation Curatorial Fellow.
The exhibition will go live on SNAG's website in December. For more information, click here.