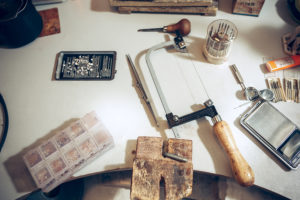 Organizations, schools, and individuals with a talent for metalsmithing will have the opportunity to showcase their skills and sell their pieces at the Society of North American Goldsmiths' (SNAG's) upcoming conference. The event will feature a metalsmithing exhibition titled 'Adorned Spaces,' where selected artists can showcase their work as one of 20 "pop-up galleries" and offer pieces for sale.
Entries are invited from both emerging and established members of the industry, provided they (or their contact person, in the case of group submissions) are SNAG members. Submissions must be received by December 15. Those whose exhibitions are chosen will be informed by February 22 and will need to provide paperwork including inventory and tax forms by April 5.
Scheduled to run from May 22 to 25 in Chicago, this year's conference carries the theme, "The Loop: Coming Full Circle – 50 Years of SNAG." Entries must reflect this theme and must be accompanied by a description and five photos, not including detail images.
All exhibits will need to be installed on the first day of the conference. Volunteers will be onsite the following two days to oversee the exhibits while exhibitors attend the conference. On May 24, an 'Adorned Spaces' closing reception will be held to recognize the talent behind the exhibition.
For detailed guidelines and to enter, click here.