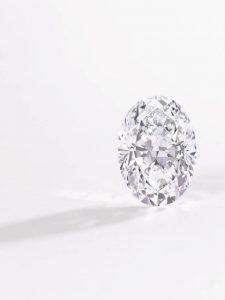 Following its recent sale of a 102.34-carat white, round brilliant-cut diamond to a private buyer, Sotheby's is keeping the white diamond momentum going. The auction house has sourced two high-quality white diamonds from Botswana, to be sold as part of the Magnificent Jewels and Noble Jewels sale in Geneva this May.
"Having witnessed the enormous effect of the 102.34-carat stone on those who saw it, we are now thrilled to bring to the market two more truly exceptional stones, both of which are among the largest, highest-quality white diamonds ever to come to auction," said David Bennett, worldwide chair of Sotheby's international jewellery division. "Diamonds like these have always captivated collectors and connoisseurs alike and continue to do so today."
Both gems are D-colour, Type IIa stones with flawless clarity. Cut from roughs weighing 196 and 155 carats, respectively, they both exceed 50 carats. The first diamond, a round brilliant cut, weighs 51.71 carats, while its counterpart (an oval-shaped gem) weighs 50.39 carats.
The round diamond is expected to sell for US$8.2 to $9.5 million, while the oval carries an anticipated price of US$7.3 to $8 million.