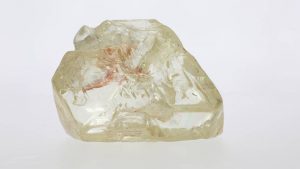 A 709-carat diamond uncovered by diamond diggers in Sierra Leone's village of Koryardu is to be sold, with Rapaport Group as its marketing and sales agent. The Peace Diamond, as the gem has been called, is the third-largest diamond ever found in the country, and the 14th largest to be found worldwide.
"I thank the local chief and his people for not smuggling the diamond out of the country," said Ernest Bai Koroma, president of Sierra Leone. "The owners should get what is due to them, and it should also benefit the country as a whole."
The Peace Diamond has been designated a 'development diamond,' meaning more than 50 per cent of its sales are to benefit both Koryardu, where it was discovered, and the people of Sierra Leone. The decision to auction the gem internationally was reached after an unsuccessful auction within the country, where the highest bid (US$7.777 million) was rejected.
"The Peace Diamond will greatly improve the lives of our people, as it will bring clean water, electricity, schools, medical facilities, bridges, and roads to our villages and the Kono District," said Emmanuel Momoh, the diamond's owner. "This diamond represents our hope for a better future as the resources of Sierra Leone fund growth, development, and jobs."
The gem is set to be auctioned on December 4 in New York.
"I believe in the positive energy of the Peace Diamond and the great good it will do for the people of Sierra Leone," said Martin Rapaport, chair of Rapaport Group. "The lucky buyers of the Peace Diamond and the resultant polished Peace Diamonds can take pride in knowing that they have created a better life for tens of thousands of people. This is a diamond that makes the world a better place. This is a diamond with spiritual sparkle."