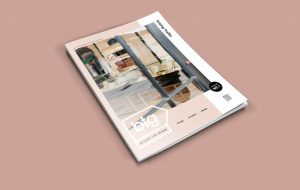 Stuller has added a new offering to its portfolio with the release of Beyond the Glass, a proprietary magazine intended to share trends and techniques within the jewellery community. The publication's first issue specifically looks at responsible sourcing, fashion's influence on the industry, and the ever-important question of how to attract more customers.
"While there are some Stuller products here, Beyond the Glass is a bit different," writes Maren Rosen, Stuller's vice-president of merchandising, in the opening pages of the issue. "Like our Bridge and Transform events, it's primarily a forum for useful ideas."
"When we meet Stuller customers, we always ask about their experiences with their clients, and we have heard so many great stories, we were compelled to share them with everyone. That's how this publication became a reality," said Josh Caffery, the magazine's managing editor. "In every issue, we want to go beyond the glass cases filled with jewellery and into the lives of everyday jewellers."
The first issue of Beyond the Glass can be accessed online.