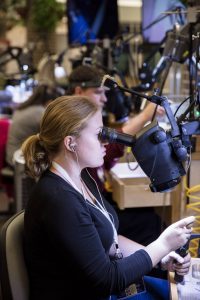 This year, Stuller will once again host its annual Bench Jeweler Workshop, offering both practical and in-class education to jewellers interested in polishing their abilities. Hosted at the company's global headquarters in Lafayette, La., the three-day program runs from March 23 to 25.
"This year we've added more hands-on classes like Lab-grown Diamond Screening and Basic Gemstone Identification," said Jason LeMaire, director of tools. "This industry is always changing in one way or another, so we really want the jewellers that come to the workshop to leave with knowledge they can take back home and apply to their business."
The event will feature more than 12 classes, along with product demonstrations. In addition to the options mentioned by LeMaire, new course offerings include:
Digital Technology and Grown Assets;
Social Media Photography;
Screening: Lab-grown Diamond, Synthetic Gemstones, and Moissanite; and
Fine Jewelry Industry Consumer and Retail Market Reports with Jewelers of America.
"There will also be several industry experts on our demo floor," said LeMaire. "Workshop attendees will be able to meet and learn from master engraver Sam Alfano, master goldsmiths Kelly Williams and Jason Chandler, and jeweller Dana Fawbush."
Certain attendees will then have the opportunity to showcase their skills in the third annual Battle of the Benches Competition.
"Four exceptional bench jewellers will compete in what we like to call a real-time design contest," said Tammy Lail, vice president of tools and metals. "The contestants will compete in three different challenges—design, parts and pieces, and prep and polish."
Interviews with past contestants, as well as more information on the competition and workshop, are available on Stuller's website.