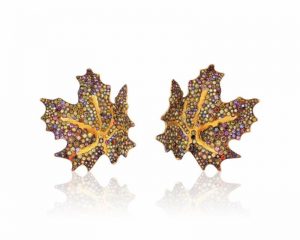 Entries are now being accepted for the American Gem Trade Association's (AGTA's) 2018 Spectrum Awards. One of the industry's foremost coloured gem and cultured pearl competitions, the awards honour exceptional fine jewellery design work and excellence in the lapidary arts.
The contest features two divisions: the Spectrum Awards and the Cutting Edge Awards. Submissions for the former should be finished fine jewellery pieces falling within the categories of bridal wear, business/day wear, classical, evening wear, or men's wear. Numerous honours, 'best of' awards, and special sponsored divisions also exist as subcategories to the main five.
The Cutting Edge competition honours classic, faceted, and phenomenal gemstones, as well as pairs and suites, innovative faceting, carving, and objects of art.
Submitted pieces may not have been published in print, submitted to an industry competition, or identified as a Spectrum Awards entry on social media. Once accepted, entries are judged on ability to generate publicity, gemstone quality, quality of workmanship, effective use of materials, design esthetic and/or innovation, and overall beauty and wearability.
All entries must be received by mail by June 29, or dropped off in New York City by July 10. (If hand-delivering the entry, entrants must still submit paperwork and payments for the earlier deadline of June 29.) Canadian mail-in entries are required to be accompanied by a North American Free Trade Agreement (NAFTA) form.
Winners will be celebrated at an annual gala as part of AGTA GemFair Tucson, which this year saw a buyer attendance increase of 10 per cent. For more information on the competition, visit the Spectrum Awards website.