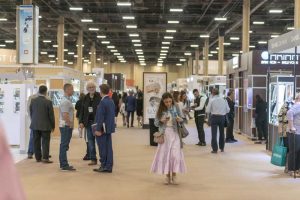 Many in the jewellery trade are anticipating a bright future, according to the first-ever JCK State of the Jewelry Industry Report. Among the 500 retailers, manufacturers, wholesalers, and designers surveyed by research firm GfK MRI, 88 per cent report they feel optimistic about the coming year.
"It is exciting to see the positivity in the industry," said Yancy Weinrich, senior vice-president of Reed Jewelry Group, which organizes JCK Las Vegas. "This leads us to be encouraged that the JCK Jewelry Confidence Index will stand strong in years to come and be supported by growing sales and strong, adaptable independent businesses."
Weinrich was also the host of the inaugural Industry Trends Breakfast at JCK Las Vegas 2018, where the main results of the report were presented. In addition to assessing respondents' optimism about the industry, the study also sought to identify primary challenges, effective marketing strategies, and growing trends.
Online competition was the most commonly reported issue in the survey, with respondents suggesting social media, nontraditional advertising, and in-store improvements as potential antidotes. Trends reported to be on the rise included lab-grown diamonds, responsibly sourced jewellery, and custom-designed pieces, with female self-purchasers becoming an increasingly critical demographic.
A full version of the report can be accessed online.