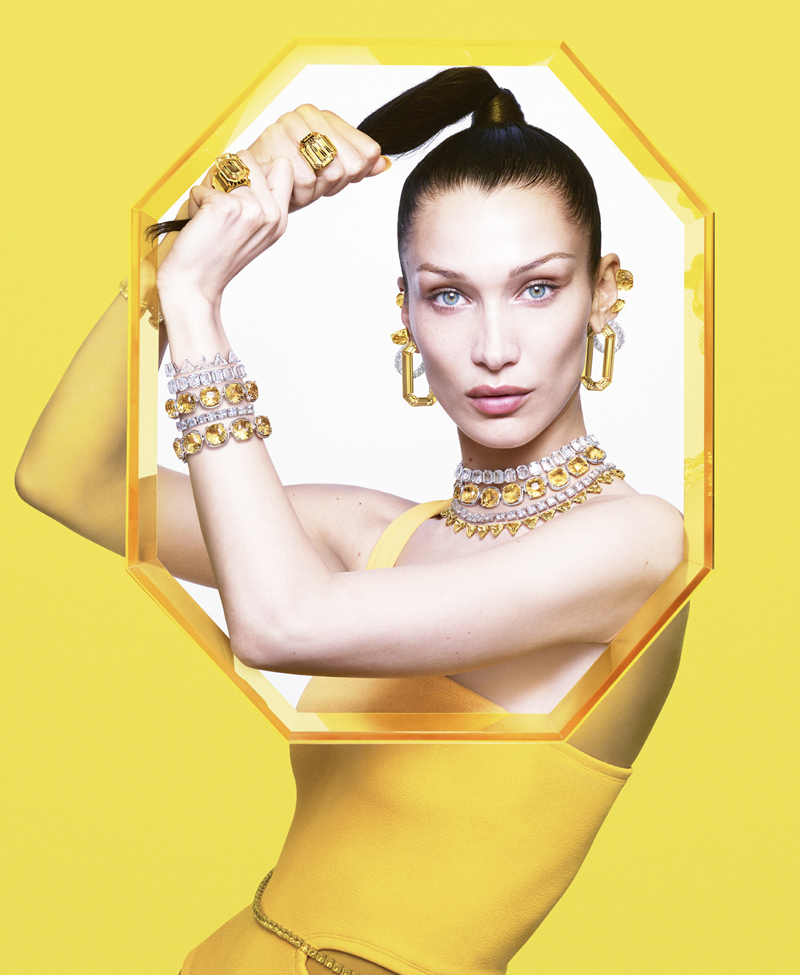 Swarovski has found a new friend in Bella Hadid.
The supermodel has been named the face of the 127-year-old Austrian jewellery company's latest colourful campaign. The collaboration features centres around a portrait series, celebrating a casual relationship with bold crystal jewellery.
Swarovski says the range of moods depicted in the campaign showcase the 'versatile nature' of crystals, keeping in line with the current trend of pairing vibrant jewellery with everyday attire.
"[Bella Hadid] is a multi-faceted character who evades the boxes of rules and conformity," says the company's creative director, Giovanna Engelbert. "She goes from sporty to glamourous while remaining the same girl with confidence and authority. In that sense, she conveys the values of Swarovski to perfection. Today, crystals are a dynamic part of our everyday wardrobe: a way of accentuating your individual style in a way that can be as casual as it can be elaborate."
The campaign features crystals in several shades, representative of their dynamic qualities, include yellow ('sporty'), pink ('sweet'), green ('cool'), blue ('bohemian'), metallic ('sunshine'), and white ('glam').
"I was very familiar with Swarovski already," Hadid says. "It really is such a timeless and iconic brand. I love the new collections and what the brand has been doing, especially these past two years under the creative vision of Giovanna, and I really see Swarovski as the contemporary jewellery brand of the future."