Swatch Group founder dies at 82
July 19, 2010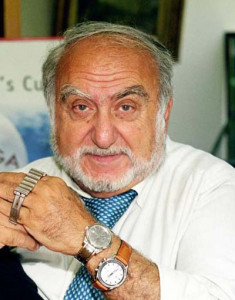 The man credited with saving the Swiss watch industry has passed away of heart failure at the age of 82.
 
Nicolas Hayek, founder and chair of the Swatch Group Ltd., died while at work "at his beloved Swatch Group," the company said in a news release. Though not the inventor of the Swatch, Hayek is recognized for bringing Swiss added value to the industry with the inexpensive plastic fashion watch.
Hayek—a management consultant at the time—took over the SSIH watch company and ASUAG in 1985, when quartz watches produced in Asia were all the rage and in competition with Swiss manufacturers. The introduction of the Swatch onto the scene resonated with consumers, putting Switzerland back on the map. The companies later formed the basis of what would become the Swatch Group in 1998.
"Mr. Nicolas G. Hayek's greatest merit was his enormous contribution to the saving of the Swiss watch industry, and the foundation and commercial development of the Swatch Group," the company said. "[His] extraordinary vision enabled him to realize and ensure the sustainability of a strong watchmaking enterprise with high Swiss added value. He is rightly recognized as a leading entrepreneur in this country."
Earlier this month, the Swatch Group board of directors unanimously appointed Hayek's daughter, Nayla, to succeed her father as chair. She previously served as vice-president.
Condolences and accolades poured in from colleagues and competitors alike.
Richemont Group chief executive officer (CEO) Johann Rupert said he was "deeply saddened" to learn of Hayek's passing.
"Nicolas Hayek's death is an immense loss for Switzerland and for the watch industry," he said. "He was the driving force behind Swiss watchmaking, its leader, and its saviour. Our industry has lost one of its champions, respected by everyone who dealt with him; a man of honour, gravitas, and great personal charm. He was a true leader and entrepreneur, and an inspiration to me."
The Swatch Group includes Breguet, Blancpain, Calvin Klein, Certina, Hamilton, Longines, Mido, Omega, Rado, Swatch, Tiffany and Co., and Tissot.
Endnotes:
[Image]: http://www.jewellerybusiness.com/wp-content/uploads/2011/04/SB_20010823Ame01.highres.jpg
Source URL: https://www.jewellerybusiness.com/news/swatch-group-founder-dies-at-82/
---