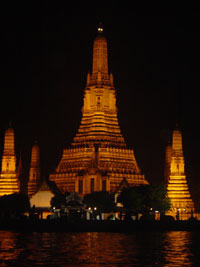 Thailand exported $5.96 billion in diamonds, gems, and jewellery in the first nine months of 2008, an increase of 70.2 per cent compared to 2007 figures.
 
Thai Gem and Jewelry Traders Association (TGJTA) president Vichai Assarasakorn says the growth is a clear indication of the country's growing role as a hub for Asia's gem and jewellery manufacturing and distribution.
"We believe that even in these trying economic times, Thailand has the resources and capabilities to retain its leading position in the global gem and jewellery markets," Assarasakorn said. "Our relatively cheap labour costs, expert workmanship and manufacturing, and high-quality products will continue to compete even in a market that is somewhat depressed."
Diamonds, gemstones, and jewellery ranked fourth on Thailand's list of top exports, coming in behind machinery, cars, and energy.
Jewellery made up the bulk of Thailand's exports in the first three quarters of 2008, totalling $2.17 billion (a 64 per cent growth) in the same period in 2007. About $1.42 billion of that was exported to the United States, Hong Kong, the United Kingdom, Italy, Germany, the United Arab Emirates, and Switzerland.
Exports of coloured gemstones increased by 58 per cent in the same period, reaching $440.4 million with Hong Kong, the United States, Switzerland, India, and Japan making up the top five destinations.
Polished diamond exports totalled $882.7 million, with Israel remaining the top export destination ($224.2 million), followed by Belgium ($215.2 million), and Hong Kong ($175.1 million).