Everyone may still be celebrating Germany's win at the World Cup, but a sneak peek of German company Thomas Sabo's autumn/winter collection scored big in Toronto.
Media and local dealers gathered in the Aria ballroom at the swanky Four Seasons hotel for an unveiling of the company's latest designs, including new pieces in the 'Glam and Soul' and 'Karma Beads' collections.
The event helped set the scene for new concepts stores opening in the next year, including locations at Square One in Mississauga, Polo Park in Winnipeg, and Market Mall in Calgary.
They join eight others across the country, as Thomas Sabo looks to create a stronger foothold in the North American market—a flagship location in New York City is scheduled to open in 2015. Currently in the United States, there is only one concept store, which is located in Las Vegas.
"Mr. Sabo is very much a friend of doing business in a thought-through way," said Felizia Kindermann, Thomas Sabo's PR manager.
"When trying to conquer the North American market, you cannot go astray everywhere. We are, and have been, very successfully based in Canada, and are now looking to expand into the U.S. market."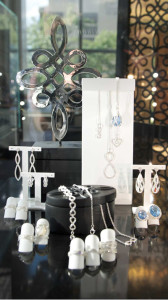 Philippe Hazan, managing director of Thomas Sabo Canada, says the German company is investing heavily in the Canadian market, including a foray into television advertising that will run not only in the Great White North, but in Sweden, the United Kingdom, Australia, and Germany.
"This definitely shows the importance of the Canadian market to Thomas Sabo as a whole," Hazan added.
"Over the last while, Thomas Sabo has been focusing on the Asian market. Here in Canada, we've been at the tipping point for many years now and we're bursting out of that bubble to conquer the market the way we should."
Price point remains a priority—50 per cent of the collection is priced under $200 retail, a sweet spot not only for the self-purchaser, but also those buying gifts.
"Thomas Sabo is offering a range of jewellery to speak to very diverse customers and target groups," Kindermann said.
"With the Charm Club, we are targeting both a very young group of customers, but also their aunts and mothers. The Charm Club is the gift-giving part of our collection. The sterling silver collections, for instance, are aimed at a target group of 25 years of age and older that is buying jewellery for themselves, as well as for others. It's very much about creating jewellery that will not only last, but will also develop with our customers by mixing and matching with new additions to the collections."