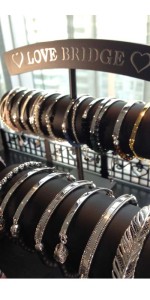 Toronto media and retailers got a double dose of Thomas Sabo styles this week.
The German company introduced its fall/winter 2015 pieces and its latest collection, Love Bridge, a line of customizable bracelets designed around the famed 'love locks' on Paris' Pont des Arts bridge. Friends and lovers declare their love and devotion to each other by attaching a lock to the structure.
The bracelets can be engraved with personalized messages of love or inspirational quotes.
"These days, everyone wants something personalized they can identify with," said Philippe Hazan, managing director of Thomas Sabo Canada.
"We like to have an emotional connection to what we wear. We buy a product for ourselves, our friends, and our family because we're emotionally attached to it. Love Bridge fills this need to personalize and to express yourself."
About 100 guests gathered at Toronto's Malaparte at the TIFF Bell Lightbox for a close-up look at the new collections. The event also helped celebrate the 10th anniversary of the Thomas Sabo Charm Club.
"I've seen brands come and go in a shorter span than 10 years," Hazan says. "The Thomas Sabo Charm Club is still a relevant collection today and it's still continuing to charm people."
Hazan says a flagship store at Toronto Eaton Centre is scheduled to open Sept. 1. Stores are also slated for Scarborough Town Centre and Upper Canada Mall in Newmarket, Ont., bringing the count of Thomas Sabo mono-brand boutiques in the Greater Toronto Area to six. Â