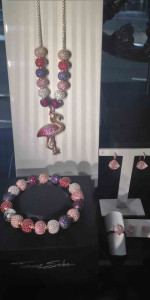 Toronto's Shangri-La Hotel set the scene for the debut of Thomas Sabo's spring/summer 2015 collection.
Retailers and media got a sneak peek at new offerings, such as spiky earrings that appear to go straight through the lobe when worn, a line of anklets, and men's and ladies' watches featuring blue dials and straps. A gemstone-studded flamingo pendant serves as the signature piece for the season.
The event comes on the heels of the opening of three new concept stores at Square One in Mississauga, Polo Park in Winnipeg, and Market Mall in Calgary.
They join eight others across the country, as Thomas Sabo looks to create a stronger foothold in the North American market. A U.S. flagship store located in New York City is scheduled to open this year.