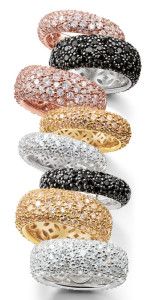 German company Thomas Sabo is expanding its retail presence in Canada this year with three concept stores.
Shops in Mississauga's Square One and Winnipeg's Polo Park will open in October, while Calgary's Market Mall will welcome one in November. A fourth store is slated to open in 2015, although its location has yet to be released.
"Thomas Sabo has always been heavily invested in the Canadian market and as a result, we have seen incredible success and a remarkable return," said the company's founder, managing director, and chair, Thomas Sabo.
"Our mission as a company is to sustainably expand into a premium global brand within our segment of affordable luxury, and the next step for us is to open new locations in markets we're currently not in."
Thomas Sabo operates eight concept stores across Canada. A flagship store is scheduled to open in New York City next year. The company currently operates two stores in the United States, both located in Las Vegas.
In addition to the new Canadian locations, Thomas Sabo has revamped its website, overhauling its e-commerce capabilities. The site's design and structure provide more optimized navigation for users, as well as access to more than 2000 items of jewellery and watches. The company has also strengthened its mobile platform to provide improved navigation and functionality.