By Jacquie De Almeida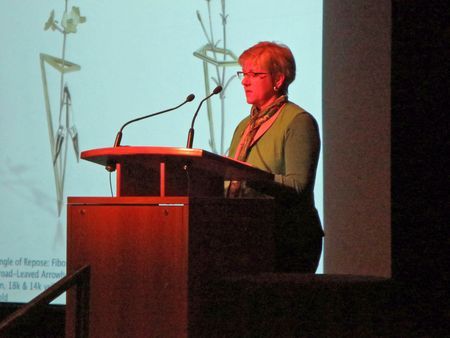 Myles Mindham is all about community spirit, particularly when it involves jewellery.
As a participant in next May's Toronto International Jewellery Festival (TIJF), the jeweller is helping to highlight the city's jewellery arts, metal arts, and design community, and he's opening the doors to his Hazelton Avenue boutique to do it. He's one of more than two dozen retailers hosting exhibitions as part of the festival.
"It's really important to get the word out that there's this incredible community of jewellers in Canada, and it's something we should be really proud of," Mindham tells Jewellery Business at TIJF's official launch. "There's an extraordinary amount of talent in Toronto. The festival is such an opportunity for a young artist to be exposed and get their work noticed."
Organized by the not-for-profit organization, Jewellery Arts Collective Canada (JACI), the month-long festival coincides with the Society of North American Goldsmiths' (SNAG's) annual conference. It's the first time in 30 years the event—named Meta-Mosaic—has been held in Canada. About 1200 local and international jewellers are expected to attend the conference.
It was an opportunity to showcase Toronto's jewellery talent to the trade and public that could not be passed up, says Paul McClure, co-founder of the festival and professor of jewellery studies at George Brown College.
"The thrust of the festival is to help the public recognize there is local and Canada-made jewellery," McClure says, adding TIJF is even developing a smartphone app to help guide people to the exhibition sites.
Jewel Envy owner Gillian Batcher is happy to host an exhibition at her studio in the city's west end.
"Toronto has a very strong and supportive jewellery community, and I think this is an opportunity everyone is taking to really band together and promote Canadian jewellery and artwork," says Batcher, who is also exhibition hall co-ordinator for Meta-Mosaic.
"SNAG is trying to include everyone in all facets of the jewellery industry in Canada and TIJF is going to do the same thing. The festival is not just going to be about conceptual and art jewellery."
Mindham agrees, adding artisans, manufacturers, suppliers, and wholesalers need to work together to promote Canadian jewellery design as a whole.
"Very little of our industry is supportive of this grassroots jewellery manufacturing," he says. "One of the things this community has to do is really step out of their comfort zone and that's what this festival is about."
In addition to exhibitions around the city, TIJF will also present workshops and seminars, including one that looks at responsible sourcing.
"The festival is bringing in thinkers from across the spectrum of certification to give younger, smaller atelier-type jewellers an understanding of where the industry is going in [this respect]," says Ryan Taylor, founder of Toronto's Fair Trade Jewellery Co. and a director with the Responsible Jewellery Council (RJC).
"The nice thing about smaller producers and designers is they have control over their supply chain, whereas regular retailers might not. This is actually the perfect audience with which to be talking about responsible sourcing."
McClure says JACI is hoping to hold the festival every two years, but for now, the focus is on building more support throughout the industry leading up to next May.
"We would like to bring more retailers into the fold," he says. "Anyone can do anything in their shop or gallery. They can set up a showcase of some of their Canadian work, have a trunk show, or release a new collection, for example."
Click here for more information on sponsorship opportunities.