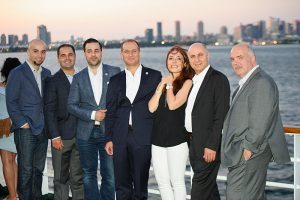 On Saturday, May 19, the Ontario chapter of the Armenian Jewellers Association (AJA) will host its annual gala at the Hallcrown in North York, Ont. This yearly celebration drew about 130 guests last year, with 200 to 300 expected to attend this year.
"This event marks a significant milestone for the Armenian Jewellers Association, which was established in Canada and has grown to include chapters all over the world," said Sergio Chamahyan, chair of AJA Ontario. "Honouring our pioneers is this year's theme, and AJA is very proud to have individuals and companies that hold such a high standard in the jewellery industry."
The event doubles as a fundraiser for the Journey, which supports sick children and wounded soldiers in Armenia, and will also feature an awards ceremony recognizing a number of Canadian-Armenian jewellers. For entertainment, there will be the musical stylings of Montréal-based Armenian singer Elie Berberian.
The evening will begin with a cocktail reception at 6 p.m., followed by dinner at 7 p.m. Jewellers—along with their families and friends—are particularly encouraged to attend, but the gala is open to anyone. More on the association and how to register is available here.