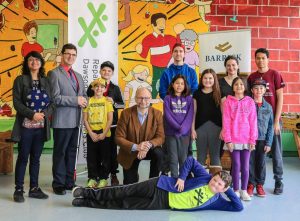 Barrick Gold Corporation has partnered with Boys and Girls Clubs of Canada on an initiative to improve children's digital literacy. Through its Heart of Gold Fund, the Toronto-based producer will support the clubs' digital education program, Kid Tech Nation.
Designed for children between the ages of seven and 12, the program supports development of skills such as computational thinking, coding, and Internet safety.
"We know it's important to equip Canadian youth with the critical skills they need to navigate the world we live in today and thrive in the future," said Owen Charters, CEO of Boys and Girls Clubs of Canada. "We are excited to have Barrick join us for this initiative and equip more young Canadians with the in-demand digital literacy and problem-solving skills required for 21st-century careers."
Kid Tech Nation focuses largely on demographics underrepresented in science, technology, engineering, and math (STEM) fields, including children from Indigenous, newcomer, and low-income families.
"Barrick is proud to be partnering with Boys and Girls Clubs of Canada to help engage and empower underrepresented youth to explore the possibilities of computer science in a fun and positive way," said Peter Sinclair, Barrick's chief sustainability officer. "At Barrick, we believe it is only when we work together that we can develop the citizens, innovators, and leaders needed to advance us toward a brighter future."
The launch of the partnership was celebrated at an event at the Dawson Boys and Girls Club in Montréal on April 28. The program will be piloted at 20 Boys and Girls Club locations throughout the year.