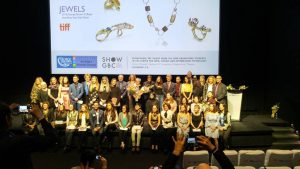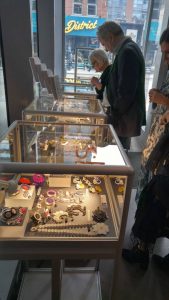 On April 19, students, faculty, and members of the jewellery industry gathered in Toronto for JEWELS, George Brown College's year-end jewellery show. On display at the TIFF Bell Lightbox were pieces designed and crafted by the school's graduating students and designers-in-residence, each one reflecting a central topic or 'thesis.'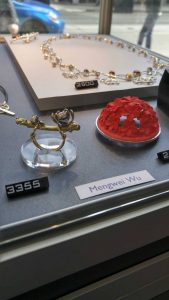 The show covered a wide variety of ideas and themes, from the influences of nature to gemstones themselves to culture, with several students designing collections around the emotions or atmosphere of their hometowns (both in Canada and internationally).
The evening also featured an awards ceremony honouring the achievements of first-, second-, and third-year students. Spanning a plethora of categories and criteria, 26 awards in total were given out, including a new scholarship named in honour of retiring professor Martha Glenny.
As a retirement gift, Glenny also received a brooch designed by award winner and student Isabel Gertler. The piece incorporates pebbles gathered by colleagues from the three provinces where the professor has taught (Ontario, Nova Scotia, and Nunavut), as well as sapphires, in 18-karat gold.
The students' pieces will remain on display at TIFF until May 13.
~By Carly Midgley